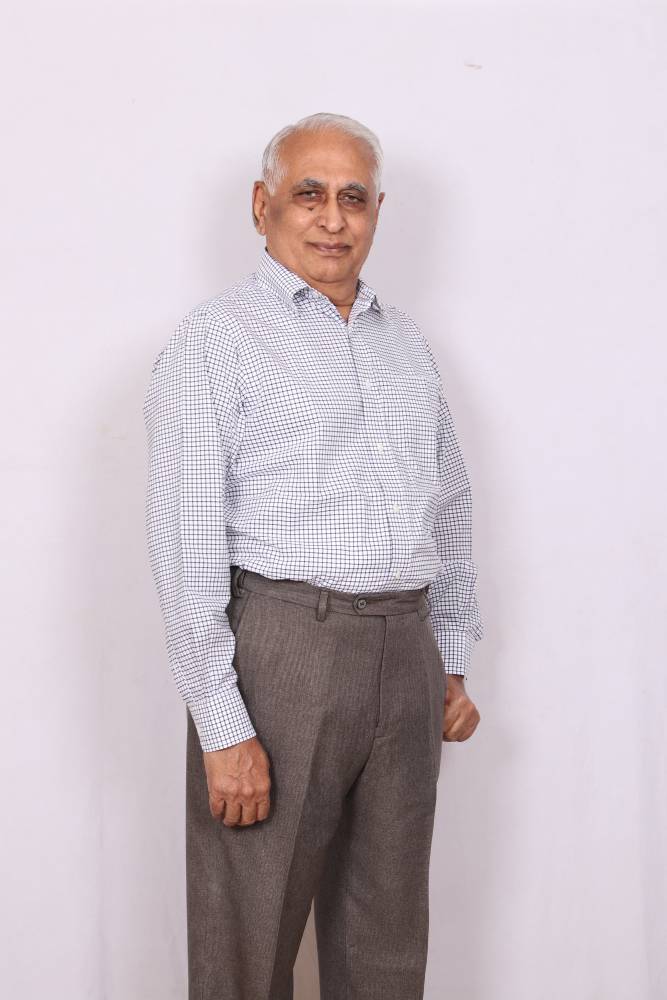 Dr. S.V. Kandasami is a specialized urologist with more than 40 years of clinical experience. The doctor completed his undergraduate and postgraduate from Madras Medical College, Chennai. After a brief stint as an assistant professor at Govt Medical College, Coimbatore, Dr. S.V.K. went to the U.S.A. and did two years residency in General surgery in Cleveland. At Cleveland, he was offered a residency in Urology but gave that up and came back to India to pursue Urology from C.M.C. Vellore in 1976. He was the founder of Vedanayagam hospital, Coimbatore, and has been practicing at that hospital to help the needy as a Consultant Urologist and a Genitourinary Surgeon since 1981. His key specialization procedures are reconstructive urology, gender reassignment surgery, endourological procedures, and renal transplantation. The doctor is an innovator and a thinker who constantly strives to provide cost-effective, patient-friendly care without compromising quality. The excellence in advanced medical practices in urology has widened his hospital's reputation.
He has single-handedly designed a TURP simulator which won him the U.S.I. "Ideas and Innovation" award in USICON held at Indore. The simulator is now patented. In his generosity, he has also donated one to his Alma Mater, Madras Medical College, Department of Urology. His view of numerous achievements was not only in the field of Urology but also in serving the needy. Also, he was awarded the urological society of India president's gold medal at the annual Urology meeting at Rancho in the year 2015.
He had extensive surgical training in kidney transplantation and other urological procedures at Vellore. In 1979 he started his practice at Ramakrishna hospital, Coimbatore. He did renal transplantation for the first time in a private institution in 1979 in the whole of South India outside C.M.C. Vellore. He also did the first cadaver transplant in Coimbatore in the year 2000 at KMCH. He was the earliest to do the Kock's pouch in the year 1985, which he later presented at the national conference in Ooty and was welcomed by everybody. 
Realising the future in endourology, he went to Vienna as an observer under Professor Michael Marberger and started doing PCNL at a time when very few were doing PCNLs in the country. His patient references extended up to Karnataka and Kerala. He has the credit of starting endourology, including installing the first lithotripter in this region. He had a flair for new gadgets and kept abreast of developments in endourology and laparoscopy. He transmitted his knowledge and skills to fellow urologists across the country by organising and taking part in endourology workshops. He was the endourology convener of the U.S.I. for three years, at which time he had the pleasure of inviting stalwarts in endourology from all over the world which really helped to improve the standard of endourology in India. 
Founder of Vedanayagam Hospital
Sangampalayam Vedanayagam Kandasami popularly called "SVK" was born on 31st March 1943 in Thensangampalayam village of Pollachi Taluk into a well-reputed agriculture family. He was like a "Madhyama Pandava" (middle of five brothers) in his family. The loss of his father at a young age to bladder cancer kindled in him the desire to take up Urology though he had excellent offers in Neurosurgery and Paediatric surgery. One might say it was America's loss but India's gain. Then, his dream to start his own Urology centre was taking shape. This came to fruition in 1981 in the form of a hundred-bed Vedanayagam hospital (in memory of his father, late Sri. Vedanayagam Gounder).
Dr. S.V.K is an avid Rotarian and, through this group, provides philanthropic services to many sections of society. His role in the rotary made him the President of Rotary at Coimbatore Central. He has also started a health centre in his mother's name to provide free health care to people in and around his village. S.V.K. is a proud family man. While his Urological services occupy a fair bit of time, he still finds the time and energy to be with family, especially his grandchildren. He is married to Leelavathi, who is nicknamed his "Boss." They have three children, all of whom are happily married and involved in the family business. Dr. S.V.K is a role model for urologists in India and is an important face of the urological community and the Urological Society of India, both nationally and internationally. 
Research and Publications
Dr. S.V. Kandasami has presented numerous papers at national and international conferences, and he is a great mentor. He always offered a helping hand to junior urologists whenever needed, always adhering to professional ethics. In order to spread urologic education to distant parts of the country, he started the D.N.B. in Urology in 2001. The course is well sought out and reflected in the quality of trainees who have passed out from the institution. To improve the academic milieu in his institution, S.V.K. provides financial incentives to residents for each publication in a peer-reviewed journal. The researches and publications made by the doctor are:
Sonographic Features of Necrosed Renal Papilla Causing Hydronephrosis J.ultrasound MED22:951-956, 2003.
Spectrum of High Resolution Sonographic Features of Urinary Tuberculosis J.ultrasound Med 23: 585-594, 2004.
Capillary Hemangiomatous Polyp in Anterior Urethra I Indian J Med Sci.2007 Sep; 61(9):531-2.
Initial Clinical Evaluation of a New Pneumatic Intracorporeal Lithotripter. Abhay Rané, Sashi S. Kommu, S.V. Kandasami, Pradeep Rao+, Monish Aron, Rajeev Kumar and Narmada Gupta. BJU International. 2007; 100(3): 629-32. Casetta.
Are All TURP Simulators Are Alike. Can We Better the Computer Model?! Rada S.V.kandasami, S.B. Viswaroop, M.desai. In Aua Abstracts.
Rare but Correctable Cause of Hypertension. Page Kidney: A Case Report. Kapil Singla, Ashish Kumar Sharma, Sistla B Viswaroop, Myilswamy Arul, Ganesh Gopalakrishnan, Sangam v Kandasami. Uro Today Int J. 2011 Aug:44).
Renal Artery Pseudoaneurysm After Open Partial Nephrectomy: A Case Report. Kapil Singla, Sistla B Viswaroop, Myilswamy Arul, Ganesh Gopalakrishnan, Sangam v Kandasami.: Uro Today Int J. 2010 Feb;4(1).
BCG Prophylaxis for Recurrence After Transurethral Resection of Tcc Bladder: Still the Gold Standard? Uroscan. Kapil Singla, Sistla B Viswaroop, Myilswamy Arul, Ganesh Gopalakrishnan, Sangam v Kandasami. Indian Journal of Urology, Apr – Jun 2011, Vol 27, Issue 2. 288-289.
Mondor's Disease of Penis. A Forgotten Entity. Kapil Singla, Ashish Kumar Sharma, Sistla B Viswaroop, Ganesh Gopalakrishnan, Sangam v Kandasami. Uro Today Int J. 2012 Feb;5(1).
Impact of Case Volume on Outcomes of Ureteroscopy for Ureteral Stones the Clinical Research Office of the Endourological Society Study. Global Sangam V.kandasami, Charalamposmamoulakis, Ahmedr.el-Nahas, Timothy Ureteroscopy Averch,O.levent Tuncay,Ashish Rawandale Patil,Luigi Cormio, Jean J de la Rosette.european Urology 66 (2014) 1046-1051.